---
Where can I get Halloween Costume TDA Miku? Download a gang of five MMD models in Halloween costumes. How can I make my MMD models look more real?
Halloween Costume TDA Miku edit by dA's Shiro-NekoVocaloid… beautiful!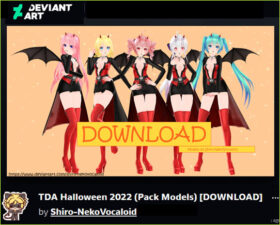 I often take a look at Shiro-NekoVocaloid's Deviant Art page, just to see what's new. This year she has created a set of TDA model edits: TDA Halloween 2022 (Pack Models) which includes a gang of FIVE popular MMD models wearing their Halloween costumes: Miku, Luka, Haku, Rin and Teto!
Fun, sexy costumes that look great on-screen!
When you first load the models, their skin is very pale. That's just the way that MMD works.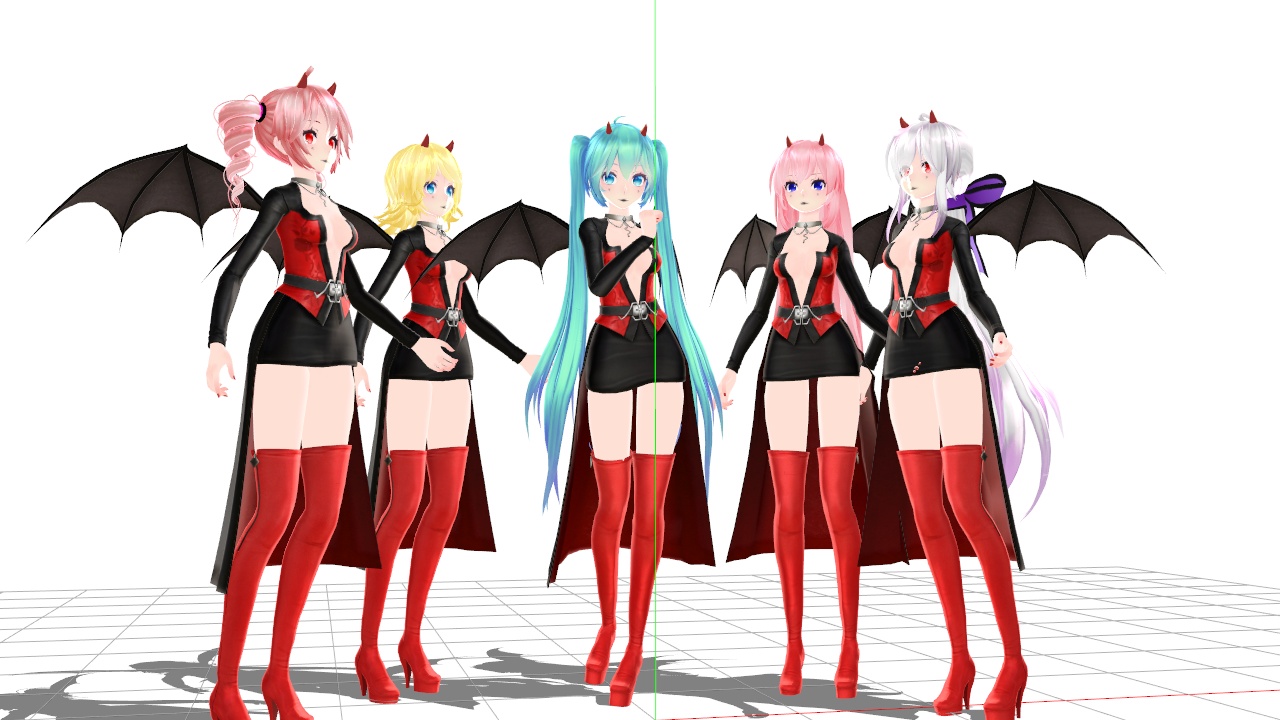 If you add SSAO, you will instantly get a nice depth of color that helps, so much!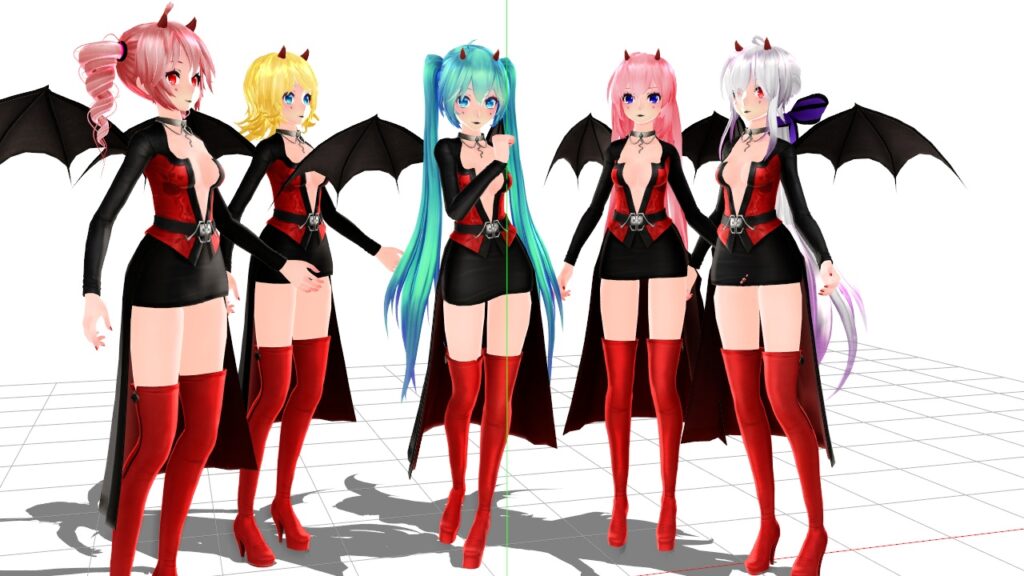 The REAL SHADERS make all the difference!
As I have written about in detail, the Real Figure Shader and the Real Material Shader add a whole new level of 3D reality to your models.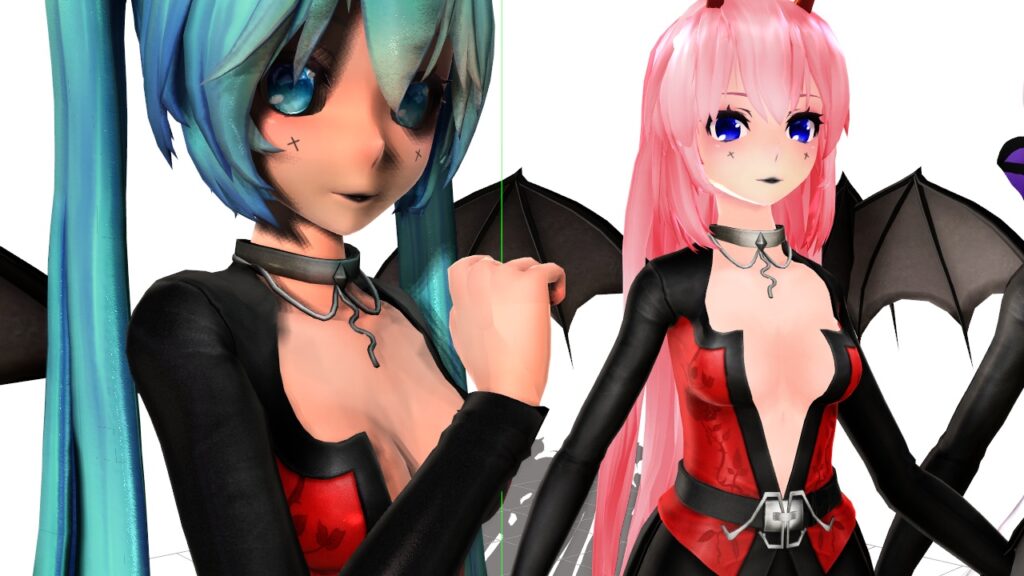 I start by simply adding one or the other of those shaders to the entire model using MME "Set Effect". If the model is a bikini model, I would add the Real Figure Shader to the entire model. A nicely costumed model like this Halloween Costume TDA Miku would first get Real Material Shader applied to the whole model. Then go into Subset-Extract and apply Real Figure Shader only to the skin parts: body, face, neck… any of the bare skin parts. Material Shader is kind of harsh on those bare-skin parts of a model. In the video animation, I also removed both of the shaders from the model's eyes; I wanted the eyes to shine brightly.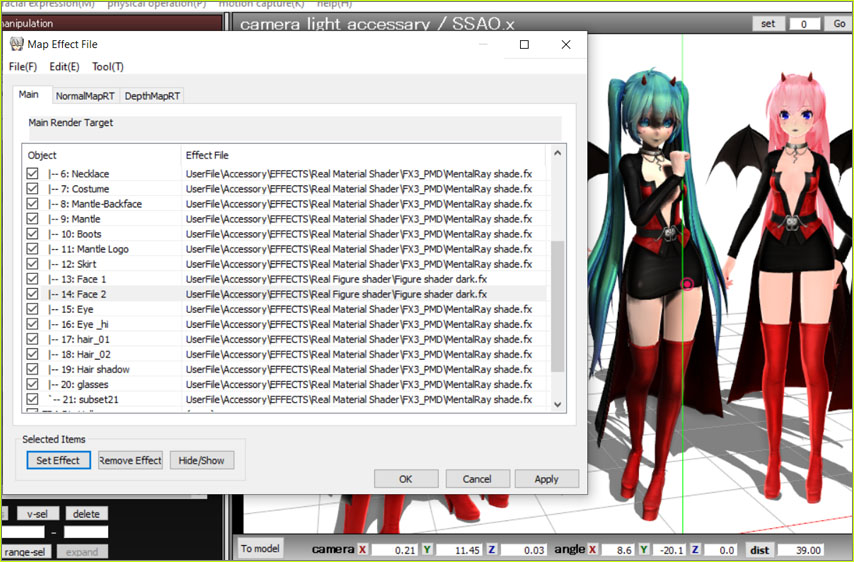 Lighting is another key element!
When you add one of those shaders to your model, she seems to go "dark". That is because the angle of the light becomes very important. You will need to adjust the lighting to make her look great! I also adjust the brightness and color of the light in order to enhance the model and get just the skin-tone that I want to see.
It's fun to see the animation come together so easily.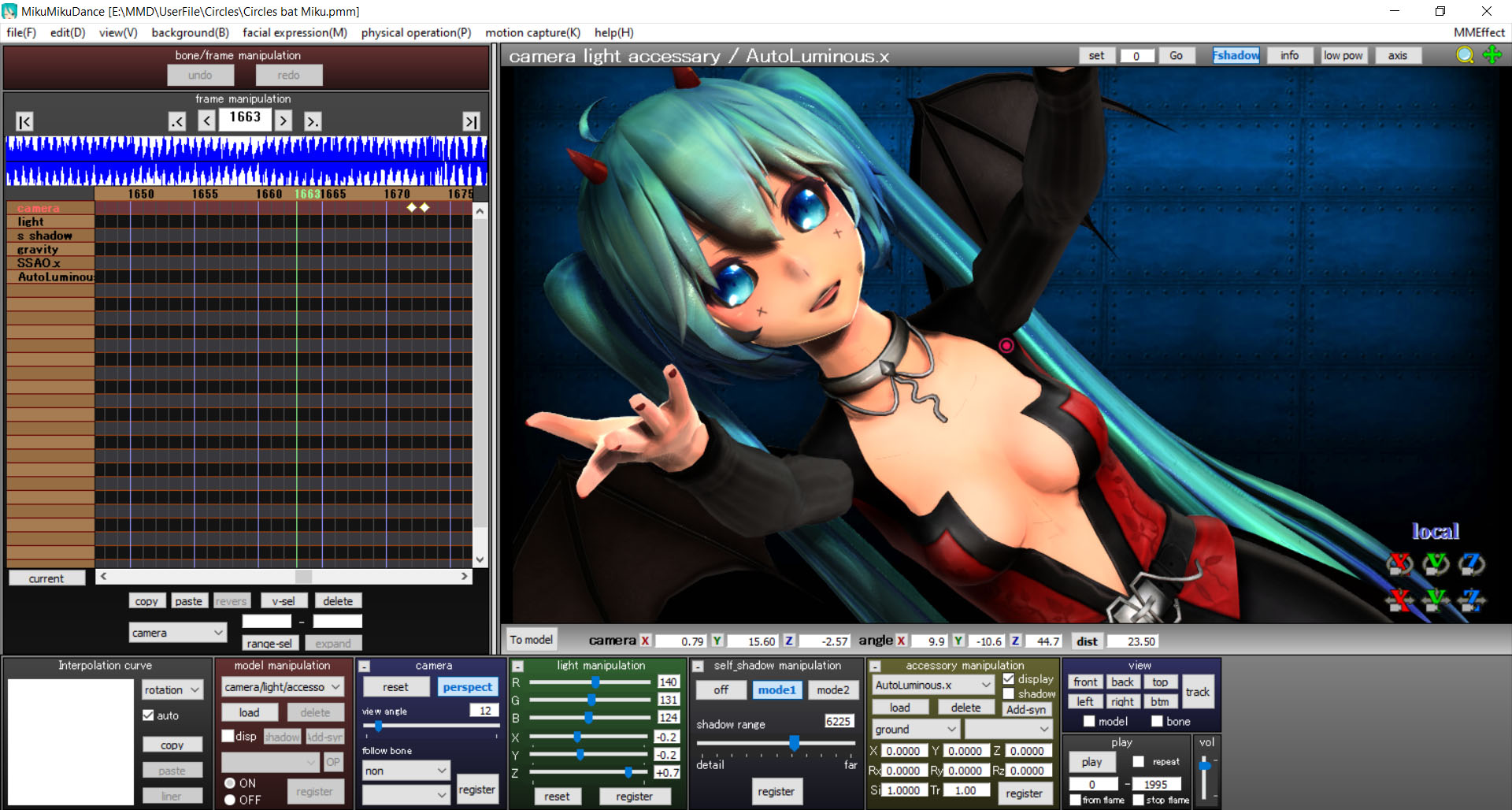 CIRCLES… the animation
See my previous article for all of the links and the credits for this Circles animation.
I used Circles as my demo for this Miku model. The original Camera VMD motion file was designed for a shorter model… like people, MMD models can be shorter or taller! In order to "move the camera up", I actually lowered my model down. I did a "Apply Center Position Bias" of -1 on the Y axis to lower the entire model-motion data. It worked because I was not using a stage and so was not worried about the model looking as if she had sunk into the floor!
Enjoy Shiro-NekoVocaloid's models and


Happy Halloween!
---
– SEE BELOW for MORE MMD TUTORIALS…
---
— — —
---
— _ — –
---