---

Where can I download the MMD "Kiss Me" motion and WAV files? Why would I make a tall narrow screen size in MMD? How can I best show-off my MMD models? How do I make an MMD music video?
This Ten year old MMD "Kiss Me" animation by Boca Pera P…
…LOOKS like NEW!
–
I went back to MMD-Nay-PMD's dA MOTION DATA INDEX page and found an awesome old MMD animation, "KISS ME" … and when I followed the download links, I found
Japanese pages with smutty ads and a download link that went 'round and 'round… so I started searching YouTube for examples of MMD "Kiss Me"… and I found MANY… some from 10 years ago… and some very recent ones, as well!
MMD "Kiss Me"…
Of the many videos, I found that this one had a link to a clean download of the motion and WAV files.
For TWO dancers… No Motherbones required!
The downloaded folder contained motion data for two dancers… each model's motion is a bit different form the other… nice! There is the 4-1/2 minute WAV file and also a camera VMD file… which I did not use in my project.
These files show a last-modified date of 2012… TEN years ago. … and so they work well with the old .PMD models; like the ones included in the original MMD program download. The two models do not need a Motherbone for this performance.
(I DID see a modern video in which there were FOUR dancers on-stage… two sets of two dancers… so I assume Motherbones were used to allow the multiple dancers to use identical data. Though you COULD use Center Position Bias to achieve this result.)

FEATURE YOUR MODELS…
…in the cell-phone screen format!
I have been enjoying that tall narrow screen as a way to demand close-up shots of my beautiful models. For THIS video, I chose a screen proportion of 1:2 … 650px x 1300px. … (If you guys have a suggestion for a better screen-size, please leave your idea in a comment, below… Thanks!)
–
In an MMD video, the model is EVERYTHING… so why have a full-width 16×9 screen size when what we want to SEE is the MODEL. … Yes… a complicated stage can be important, too… if that's what you want to show the viewers… but for me, I want to show off my models. YES, you can do close-ups of your model in a 16×9 format… but the models are "tall" and that screen is "wide". So my latest consideration as I create my MMD animations is to feature my models with constant close-ups and tight cropping of the animation actions.
KEEP the Camera MOVING!
I have been harping about this idea since I started LearnMMD.com back in 2011: nothing more boring than a scene with no camera motion. … Keep the camera moving! Even if it's a quiet scene and all you can do is close-in a little or back-out a little… Do it!
For THIS animation (and most animations) the dancer's motion is fast-paced… the music is fun and variable… so I take my camera-motion cues from both ideas: show-off great moments in the motion file and cut scenes as the music shifts and breaks.
Tall Narrow Screen and TWO Dancers!
THAT was my challenge with this video… TWO models to adore and only that tall narrow window to shoot through! The motion file is very cute, and so I often wanted to show a long-shot of both models, but then the models, themselves get lost in that little window… so I decided to "cut-in-close" with extreme close-ups in between the long-shot scenes of the dancers.
CLOSE-UPS from all angles!
I totally enjoy showing-off the design elements of the models I feature in these videos! Camera-shots up-close and personal… faces, hands, breasts, bodies, legs, "pantsu"… all are fair game as the camera flashes through the MMD animation stage-scenes in a way that no real camera-crew could do.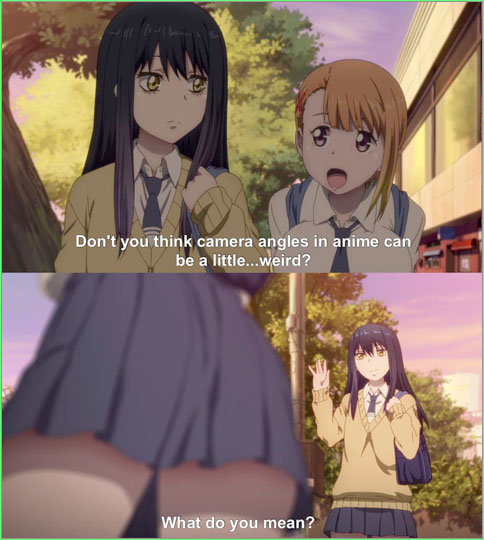 I DO try to be mindful of up-skirt shots from the floor; and I have sometimes chosen one model over another because of the motion-file's tendency to aim-up from low positions as in THIS video, I had to use a model wearning shorts!… but I also feel that a dancer blasting through her calisthenic-like routine will sometimes show an immodest moment as part of the fun of it all… the quickest bit of "fan service".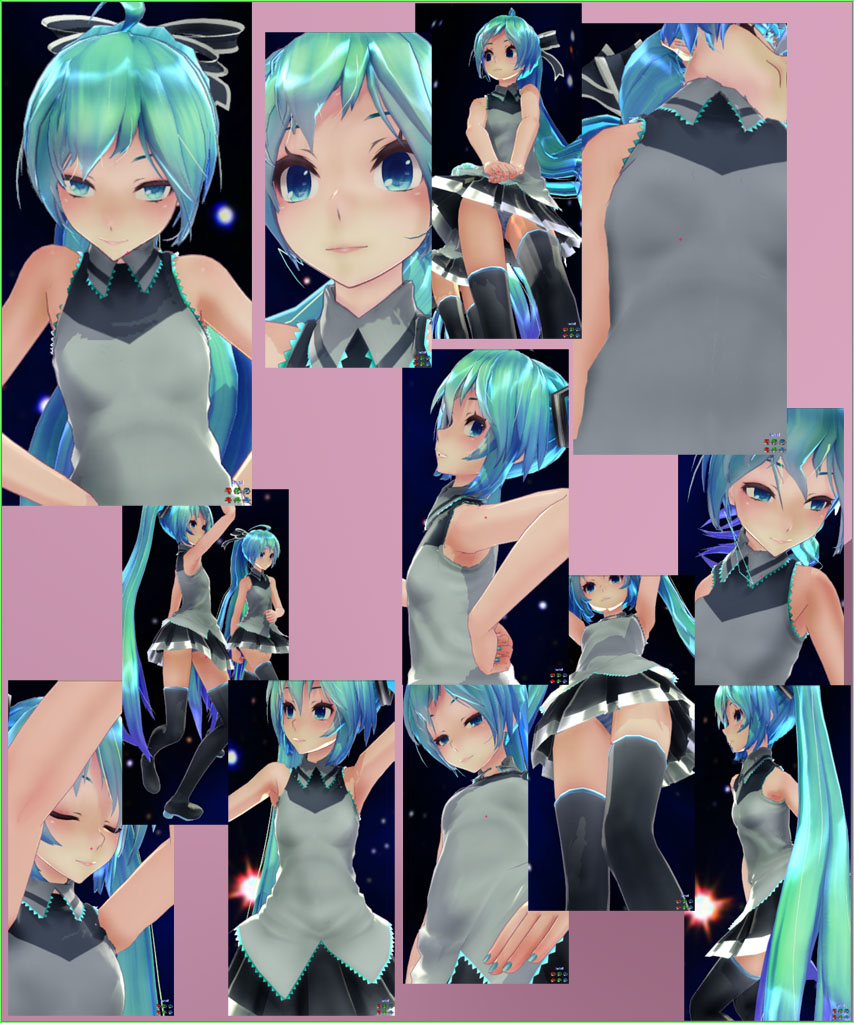 Over 4-minutes long! … cut-off at 115-seconds!
The original animation and WAV files are over 4-minutes long. … I just about never "last" that long when watching an MMD video. I generally advise chopping things off before the two-minute mark; either with a sudden end or a thoughtful editing of music and motion files so as to make a smooth ending. … I decided to chop this one off at 155-seconds of animation. I spent just over TWO hours on the camerawork that you see there for my 2-minute video. This IS a cute motion set, the music is fun… so I might someday revisit this piece and complete it… maybe…
SKYDOME and no stage.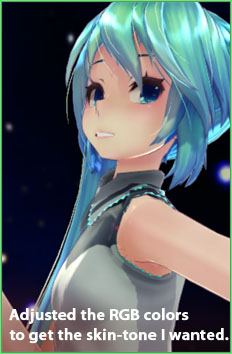 I used the Spacedome skydome included with the Trackdancer LearnMMD stage. I attached that dome to a "dammy-bone" and then I rolled that dummy-bone all over the place throughout the animation.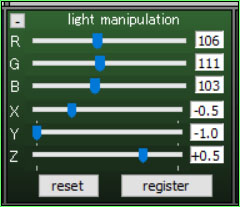 I used only the SSAO effect so as to get a nice depth of color in my models. I also turned down the house-lights a bit just so the picture would not be so bright and I adjusted the RGB values to get the skin-tone I wanted..
MODEL CREDIT:
https://www.deviantart.com/xoriu/art/TDA-Costume-Arrangement-A-Miku-DL-411744049
Have fun with MikuMikuDance!
---
– SEE BELOW for MORE MMD TUTORIALS…
---
— — —
---
– _ — –
---