---
Where can I download Beamman's Grass effect for MME in Miku Miku Dance 7.39? LearnMMD MME Tutorials. How do you use Beamman's Grass Effect in MMD 7.39 with MMEffect? Where do I get MME so I can use Beamman's grass

effect in Mikumikudance 7.39?
Beamman's Grass Effect for MME adds Life to your animation!
---
August 15, 2017… This effect is not working for me. A reader complained that it didn't work properly… no grass motion. My old copy didn't work. I downloaded a NEW copy and it didn't work. I tried it with MMD 9.26, 9.12, and 7.39… without success. PLEASE leave a comment to let us know if you can get it working… What's the secret??
—
September 25, 2017… The effect works! Thanks to the commenter Imogen, the solution has been found. Rename ふかふか草むら.fx and ふかふか草むら.x files (or whatever they look to you if you didn't unpack them using the correct codepage) into Grass.fx and Grass.x respectively. That will make the grass move again.
In MY MMD… I load the Grass.x and see a quick skitter of grass… and then nothing… no grass… until I push "Play". The grass SNAPS into view and works just fine.
A dA artist now has a Grass version with a controller… the controller loads as a PMX model and has a VMD motion file that you will want to load onto that controller. This version lets you change the color of the grass. … Again, push PLAY to see the grass. If the grass looks black, load that VMD onto the controller.
—
---
One of my favorite effects for MME is Beamman-P's grass effect. Beamman makes some really great effects, and this one is no exception. The effect is a field of realistic blades of grass, which move with the "wind" and movements of the characters placed on the field. This effect is very helpful and cool.
One of the problems with .x stages is that they often don't look realistic. They can sometimes seem rather flat and lifeless. Nothing really moves. If you look around in the real world, you'll see that every location is, in a way, alive; trees bend, grass sways in the wind, people and animals move around, lights come on and off, flags wave… nothing is really still.
In MMD, stages usually stay still, except for fancy ones (By the way, Trackdancer on DeviantART makes some really fantastic customizable moving stages, you should check them out). While this is usually ok, since you'll usually want to focus on the dancer anyway, a moving background can really make your videos pop. They look more realistic and fancy, and plenty of movement and detail will keep your viewers glued to the screen. For example, in the Project DIVA PV of Ievan Polka, Miku is dancing in a simple grass field. This looked very nice, and made the video look good.
So, how can we accomplish this using a simple program like MMD? With the grass effect, of course! If you haven't got MME already … be sure to download and install MMEffects into your MMD folder.
Using the effect is easy. First, download it from Beamman-P's web page. You can find his page here: http://www43.atwiki.jp/beamman/ Scroll down some to find it. The title is "当たり判定付きふかふか草むら", and it shows a picture of a character from Touhou standing in a field of grass. Underneath it are two links; one goes to NicoNicoDouga, and one goes to GetUploader. Click the one on the right, which says "ダウンロード". This takes you to GetUploader. Look down, and you'll see a button with the same text. Click that, then save it to wherever you keep your effects.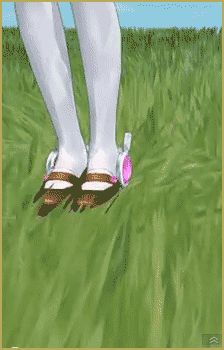 Now it's time to try out Beamman's Grass Effect! In MMD, go to the camera/light/accessory editor. Click the load accessory button, and find the folder where you put the effect. There should be one .x file in there. Load up that, and you should see the grass. From here you can change the size and position of the patch of grass. For fine-tuning, you can attach it to a dummy bone and move it where you need it. You can now add your model, or if you prefer to do that first, that's fine too.
Now press play. Ta-da!! You should see the grass waving gently, and little ripples in the grass as your model moves. Fancy, nee? That's all there is to it. This effect can be a lot of fun to play around with. Note: This may take a while to render depending on your computer's capabilities and how many models and effects you have running. If you try and do to much, you might even crash MMD, so be aware of this and don't overdo it. Other than that, this effect is quite useful and fun. Enjoy it!
---
– SEE BELOW for MORE MMD TUTORIALS…
---
— — —
---
– _ — –
---