---
How can I use the MMD Camera Motions to make my

videos better? How can I make my MMD videos more interesting? How can more MMD camera motions make my video look professional?
Keep the Camera moving …
Busy MMD Camera motions
make a better video!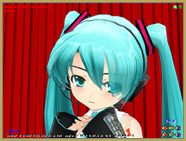 The "Departures" meme is a beautiful example of MMD Camera Motion. Watch a video made using the original meme's camera motion file and you are in for a treat … there is a lot to learn, there. The camera is never "sitting still". Even when you think it might be still … there is always a slow pan going on … sometimes hardly noticeable … other times it grabs your attention. So nice.
Watch Professional Concert Videos …
…see how the camera is always in motion!
I created this "filmstrip" to show you how the active camerawork keeps your interest. (Click the film strip to see the larger image). (That is the artist, SADE, from her 1994 video album "Sade Live", on the Epic Music label, cut #1: "The Sweetest Taboo".)
See how the camera is always on the move:


Closeup from slightly below level
Pan back and left to off-center
Raise altitude to look down from above
Pan in close … pan back and swing to off center
Cut to close-up and pan to off-center
Get in tight to see the perspiration!
Back out to show the whole stage
And so it goes … much more interesting than having only one or two views cutting back and forth.
Just for the fun of it …
You might revisit some of your earliest videos and work with the camera motion to see what you can create,  now that you are inspired to improve the MMD camera motion.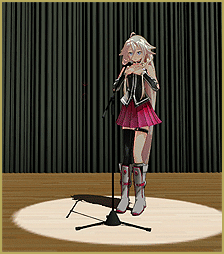 Another "Departures" meme I created had a modified Camera Motion … but I tried to stay true to the idea of elegant and complicated camerawork. Click the picture to watch the video on YouTube.
---
– SEE BELOW for MORE MMD TUTORIALS…
---
— — —
---
– _ — –
---