---
Hey guys ! Nicole is here !
Today, I will rant about MMD Models. Maybe you were like: "Rant about MMD Models? Why? For what?"
I will answer those questions in this rant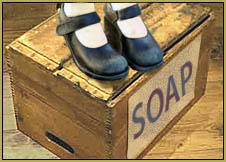 later, but first things first… Reggie, I need your soapbox for the rant thingy now-
<Nicole steps up onto the mighty poor soapbox and faces the crowd…>
As you know, many MMD modelers created their own models, right ? Examples like LAT, Piron, Zeze, Aoringo, Kanaha, etc.  And you know what? They distributed their models for free, right? You're allowed to use their models as long you credit their creators.
BUT…
I see many people take the credit for models they didn't make. They are like: " This is my model, it took me 7 months to make, you know!" It's a total lie unless it's the creator himself who said that.
I meet people like that on DeviantArt… one of the examples went like this :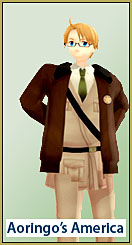 Me : " Excuse me, is this your model? " I asked her because her model looked the same as Aoringo's. ( She posted a pic of Hetalia's America on dA and claimed him as her model.)
She : "Yes, this is my model."
Me : "Umm, but I think this is Aoringo- san's model" *Gives the link to the model*
She : "She / He is just reuploading my model to Bowlroll!"
Some people who saw this comment chain, say that the America model IS Aoringo's. Finally, she confessed and said that Aoringo had made the model, not she.
Yay for me !  \ :) /
So… First: please KEEP CREDITING THOSE CREATORS ! IT'S A MUST !
Second: Don't recolor models ! It' s a BIG NO ! Unless you want Eli's mafia to chase after you :D
Why shouldn't we recolor models ?
You see, the modelers really put in some hard work! They need 5 or 6 months for one model! Please respect them, guys..
Third: DO NOT BE MAD AT JAPANESE/WESTERN MODELERS WHEN THEY DON'T GIVE YOU THEIR MODELS.
Unless you requested a model from him or her and he/she said "yes" and then took such a long time to finish it… like she promises you the model will be done in 2 months but she is so lazy she didn't give you the model. Then you can be mad… never break promises, guys :o
But, for Japanese modelers it's common for them to not give their models to people that are not from their community. They're afraid the western MMDer will break her model rules, so they only trust people in their community.
Fourth, and last..
Follow the rules of the modelers ! IT'S A MUST !
Like if the modeler said no redistributing the edited model then DON'T DO IT !
No edits: DON'T DO IT !
Edits are allowed and Redistrubuting edits are allowed: THEN OK TO DO IT !
No R-18, Yaoi, Yuri, ETC, DON'T DO IT !
Unless you want the model to be deleted from Bowlroll, Deviantart, etc >:D
Well, that's all guys, if you have any questions about my model rant or about the model rules just ask me :) or if you've had a lot of trouble translating the model rules to English, ask me. I'm a beginner at Japanese but I'll try my best to help you :)
If you can't open PMD Editor on your computer or laptop or notebook or anything similar to those gadgets, just ask our teammates for help! Me, Reggie, Arizona, KillerBeer , and our other teammates will help you! We don't bite :o
See you all ! We will meet again in my next post, :)
Thank you for the use of the soapbox, Reggie!
<Nicole steps down from the soapbox amid loud cheering from the assembled crowd of MMDers. Thank you, Nicole!>
---
– SEE BELOW for MORE MMD TUTORIALS…
---
— — —
---
– _ — –
---