---
I just saw an ad on these pages for a free video editing software from NCH Software: VideoPad Video Editor
I visited the page and found that… Yes! … there is a free download available for "non-commercial, home use." Just click the DOWNLOAD NOW for Windows. … I see that this software is only for 64-bit Windows computers.
There is a PURCHASE button, too… see the options there; the basic purchase price is $99.95 but on sale, now (August 13, 2021), at $69.95… but, again, if you only want to use it as an MMD hobbyist, the download is free when you click the Download Now button. There is no registration, seems anonymous.
If you have ever used Windows Movie Maker, you already have a start on using THIS software. I see that there are more buttons and features available than I have ever used before… I am looking forward to learning to use them!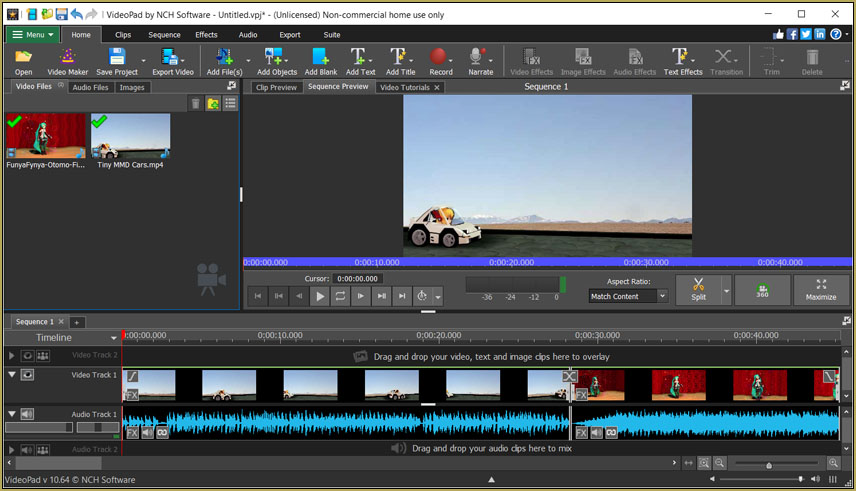 So… Take a look… try it out.
It has the features of a professional-level video editor at a great price… even the "PAID" version is a good bargain… but @ FREE… unbeatable!
Prism Video Converter Software, too!
NCH Software also has a Free Download of Prism Video Converter Software.
I have used this Prism Video Converter software for years… easy to use… allows you to convert your original HUGE AVI file into a compact MP4 for upload to YouTube.
Again… the free download of Prism Video Converter is for non-commercial use. Please DO purchase the commercial version if you are using this software in a commercial environment.
PLEASE carefully read the License Agreements
I know… I know… too much fine print TL-DNR… but these "agreements" are not very long and they DO spell out the limitations of this free software. I just scanned-through each paragraph to see if anything actually pertained to me and my use. I feel confident that I, for my use, qualify under the non-commercial free download of the software.
ENJOY the
VideoPad Video Editor

and the

Prism Video Converter

software!

… and check out the many other products offered by NCH Software.
Have fun with MikuMikuDance! 
---
– SEE BELOW for MORE MMD TUTORIALS…
---
— — —
---
– _ — –
---