---
Why is my new model white in MikuMikuDance? New models do not download correctly in MMD. The clothes are the wrong color are white.  LearnMMD Tutorials. My new model not right is broken has white has no color not showing working mmd.

Opening Japanese Models in MikuMikuDance
– Sometimes they don't work!
The Japanese have been into MMD for years and they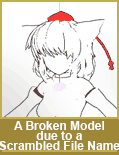 have created and shared thousands of models online. Of course they name their files in Japanese! … and our computers, in the USA, use a different character set … don't speak Japanese … with the result being scrambled file names. We need to use a new "program set" to open those Japanese zip files while keeping the original file names.
I found a solution to share with you: https://learnmmd.com/Applocale7zip/. Following the instructions, there, you will download a zip-file software, 7-Zip, and a Microsoft program: AppLocale. Read and follow the instructions carefully, like I did, and you will have no problems.
Editor's
Note: 5/28/2016
Another method for keeping the Japanese file names as you open a Japanese model zip folder is to use the free

Bandizip

software
with the Code Page dropdown set to Japanese.
See the Bandizip article.
The only place I hada question was about saving a batch file that we will use in the future to open that Zip program. We want to make a simple icon button for our desktop that we can double-click when we want to use 7-Zip in combination with AppLocale to open a new model. The author gives us the command line:
C:\WINDOWS\AppPatch\AppLoc.exe "C:\Program Files\7-Zip\7zFM.exe" "/L0411"
and he assumesthat we know what to do with it … but it has been a long time since I have thought about DOS!   What you do is open NOTEPAD on your computer; copy/paste that line of type into an empty NOTEPAD screen and SAVE AS … as a ".bat" file. Your SAVE AS window should look like this: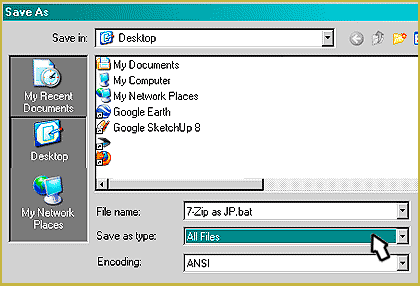 At the bottom of the save window the drop-down will show "Text Document .txt" … you change that to "All Files" … designate your Desktop, and name your file like he did:   7-Zip as JP.bat    and SAVE. A "gear" icon will appear on your desktop. Double click the icon and 7-Zip will open.

You use 7-Zip to extract your downloaded model's zip file.
That's all there is to it ":o).
---
– SEE BELOW for MORE MMD TUTORIALS…
---
— — —
---
– _ — –
---