Create your art… make it custom… make it YOURS… eMail it to us and we may use it on our pages!
Make LearnMMD Masthead Art and eMail it to us!
… See your art on LearnMMD.com!
LearnMMD.com is the most popular MMD website on the web. With over 8,000 visits a WEEK, we find that 32% of our visits come from returning visitors… and they must get tired of seeing the same old "look" on our pages. So, to spice things up…
Readers can contribute their art for use on our pages!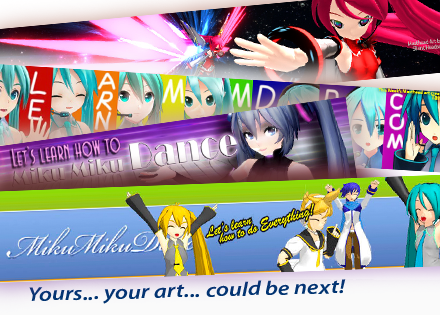 It's easy! …
Download the Masthead Template zip. It includes an instructions image and a short written ReadMe.txt file that explains how it all works.
Create your art using whatever art/paint program you wish.
… and he will review your art and send you a note to Thank You for your submission… and let you know when to watch for it online… on the pages of LearnMMD.com
With every page-load, the masthead images on LearnMMD.com are randomly selected from the pool of uploaded images… and YOURS might be next!
The legal bit: Please know that by sending your art to Reggie at LearnMMD.com, you are freely giving it to us for any use we may have for it. We reserve the right to adjust it and use it as our own. You may see it as a masthead… or as a piece of art in an article on LearnMMD.com
Give it a try…
Have some fun!
---
– SEE BELOW for MORE MMD TUTORIALS…
---
— — —
---
– _ — –
---