---
I downloaded the DirectX 9c update but I still

get the "d3dx9_32.dll was not found" error message! I had the missing DLL error so I updated DirectX but I still get that error message when I open MikuMikuDance. Miku Miku Dance won't open, It says I have a missing DLL file!
d3dx9_32.dll was not found
MikuMikuDance 7.39 is a modern DirectX "game" … and you need to be running a current version of DirectX … or, at least, a version that fully supports DirectX 9.
When I first tried MMD 7.39 I got a "DxOpenNI.dll was not found" error. After some digging I found a DirectX update from Microsoft. Once I had it, Microsoft wouldn't show me that page, again, so I have made that download available to you here: https://learnmmd.com/http:/learnmmd.com/dealing-with-the-missing-dll-error/
That worked for me … MMD runs just fine on my old Dell XP SP3 machine. I DID have to upgrade the original graphics card in order to rum MME (MikuMikuEffects).
Many Readers Report…
…"d3dx9_32.dll was not found"
Even after that DirectX 9c update from our Downloads page … some of our readers are still having DirectX issues. The most common one is the "d3dx9_32.dll was not found" error.
I have a new ZIP for you, containing that file …
After some web research, I found a a nice article describing a method for making this fix. The page had so many ads that it was difficult to read the article. I did a copy/paste to make a new WORD document of that article. All of the original source info and a link to the original article is in the new page.  Following those steps will be the best method to solve your DirectX problems.
If you are STILL having that same error, "d3dx9_32.dll was not found",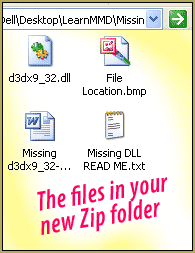 try the copy of that file I have included in the new ZIP file.
The author of that article says not to download some guy's version of that file, but, instead, get your update from Microsoft.  That isn't working for everyone … so go ahead and use the d3dx9_32.dll file in my zip.
Installation is easy. Put the new DLL file where you can find it. Click START in the lower left of your monitor. Click My Computer. Double-Click Local Disc: C, Double-Click the Windows folder … now … drag-and-drop that new DLL file into the folder named "system32". That's it. Close the windows.
Open MMD 7.39 … Success?? – I hope so!
---
– SEE BELOW for MORE MMD TUTORIALS…
---
---
---