---
How do you download MikuMikuDance models? How do you download music for MMD? How do you get Miku Miku Dance motions? Where do you download stuff for MMD? Where do you download MMD models?

I Just Downloaded Miku Miku Dance!
So  …  Now What?
Okay!    You've just downloaded MMD (The latest DirectX version,I hope). You played the sample dance. Then you might have loaded one or two of the default models. So you're thinking: "Now what?" … This next part of your MMD experience can be a lot fun.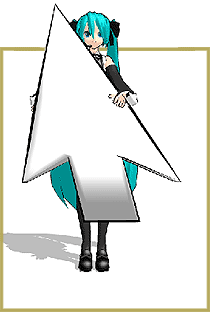 You are now about to start collecting!  Models, .wavs, motions, stages, and effects of all kinds are out there for you.
The first thing you need to be prepared for is that the majority of these file sites are in Japanese! The files, folders, and other data are also listed in Japanese. So navigating your way through these sites will test your net savvy. Don't Panic! There are English-language sites, too. YouTube up loaders will sometimes put links in the "Descriptions" as part of their up loads. DeviantArt has a plethora of channels for downloads. One of my fellow contributors, VocaMix2684, recently wrote an article on one of my favorite sites: MikuDance.info. (Also see their link in the DOWNLOADS section of our site).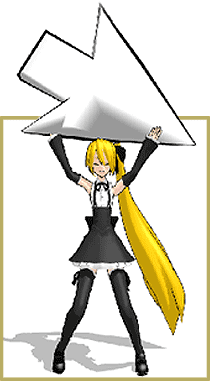 Another option to overcoming the language barrier is to use your browser's translation applications (Google Translate comes to mind). There are also on-line translation sites that allow you to copy/paste text. Don't expect it to be in the Queen's English, but it will give you a working clue to help you figure stuff out.
The most basic thing you need is a good compression program to open ZIP and RAR folders and files. 7-Zip, Winzip, and WinRAR are the major players in this arena. Whichever one works for you is fine, as long as it works. Almost all of things you want to download will be in a ZIP or RAR file format. You can download these programs and decide which one (or ones) you like by clicking the Download tab at cnet.com.
Once you download the data, it's a good habit to rename the file to something you can understand and use. This would also be the best time to document who made the data (Example: "Gothic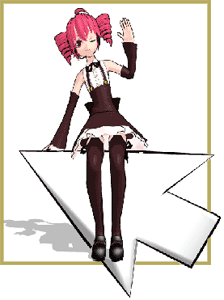 Teto by Nigamon" or "Candy Candy motion data by Yamilucy" are short and sweet file names). More often than not, you'll find credits in a "Read Me" file included in most downloads. It is very important to give credit where credit is due. The ones who create this data, do it for love-please respect that. Finally, place the new folder into the correct subfolder inside your User Folder.
I really enjoy this part of MMD-ing! What never ceases to amaze me is the sheer amount of pure creativity people up load. Daily, someone has a new dance, skit or meme available. MMoDlers (my terminology) create and upload a diversity of new models. You can also subscribe to and learn from them. Making friends with an MMoDler could open the door to custom model work.
I hope you now have a better idea of what to expect as you begin to search for and build your own MMD Collection.
One last thing to keep in mind, some links will direct you to Loda Japan. This service was shut down earlier this year (I will REALLY miss that service). Many people still haven't updated their links to Loda.  Don't waste your time on those dead "loda.jp" links. (MikuDance.info is working to collect the new links to the old Loda pages … check it out at MikuDance.info!)
Have fun collecting!
---
– SEE BELOW for MORE MMD TUTORIALS…
---
— — —
---
– _ — –
---