---
How do I find WAV files for MikuMikuDance? How do I make WAV files? Can I convert an mp3 into a WAV file? How do I add music to MMD?
Audacity

®

2.0 Audio Editor easily converts mp3 to WAV files for MMD
After a search I found this large, FREE, complicated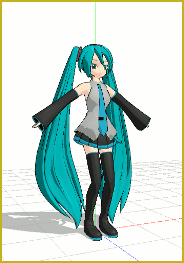 and powerful audio editing program, Audacity 2.0. It's a 14mb download … and it is SUPER EASY TO USE for our purposes. Just two steps: 1.) IMPORT your source music, 2.) Click EXPORT … That's it.
The Audacity website: http://audacity.sourceforge.net/download/beta_windows has several versions available for download. I chose the "Recommended Download" version 2.0 installer for Windows XP/Vista/7 … Please read the details on the site and select the proper version for your system.
Audacity 2.0 looks very powerful … full of lots of buttons and options to control almost any audio conversion. BUT … I have found that all we MikuMikuDance users need to do is load the program, IMPORT your music file, and click EXPORT in the File Menu dropdown.  The program asks if you want to save the WAV file … and … you do so. Save the new WAV file into your MMD Users Folder inside the WAVE folder.
I look forward to playing with the full power of the Audacity software … someday … but for creating WAV files from an mp3 file, nothing could be easier!
---
– SEE BELOW for MORE MMD TUTORIALS…
---
— — —
---
– _ — –
---