---

MMD is FREE…
All you can "Pay" is your "Thank you!" So, write credits to thank the artists and MMDers who created your models, accessories, effects, poses and motions.
Write your own ReadMe Files to track your sources!
Most important MikuMikuDance instruction: Track your sources!
Again I remind you guys of what should be the most important MikuMikuDance instruction: Keep Track of your Sources and write credits in your video descriptions!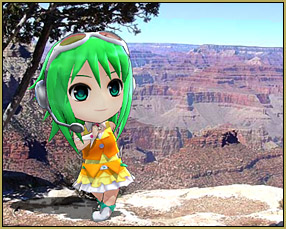 The free use of everything to do with MikuMikuDance, ALL of what we download, EACH of what we download, is the creation of an enthusiastic artist.
The only "Thanks!" that artist gets comes from you… the MMDer.
Track your sources!
As I download anything for MMD, I also open a Notepad page where I can copy/paste the page link and any notes to help me remember where I got the model and who made it.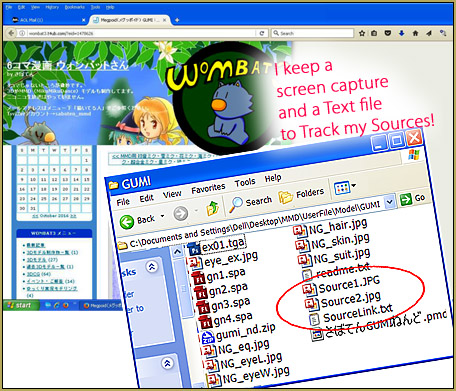 I also do a Print Screen of the dA page, or whatever, showing the creator's page and model images. I paste that image into MS Paint and do a Save-As so that I have a picture to include in my new model's folder.
It's the least we can do!
I know it takes a few moments to do these things… and I know how exciting it is to find and download 'just the right model"… but it's the least we can do to save the links and track our sources so that we can include the credit for that model in our video descriptions.

I, myself, have created a handful of accessories and effects which I have made available for free download from the pages of LearnMMD.com … and I see the web stats showing the many downloads; I love it that you guys are using my creations! … and, as Editor and Moderator for LearnMMD.com, I am proud of the huge quantity of instructions and links we offer to the MMD Community.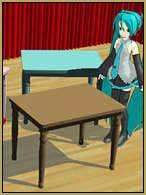 … and I sometimes search YouTube for LearnMMD and for some of the individual accessories I have created… just to see that MMDers DO use our creations… and I love it when I find some!… I enjoy seeing my accessories in-use in a new MMD video… but if you do not write a credit in your video description, I will never find your video… I will never know that you used my item.
Track your sources… leave credits!
It's the least you can do… it's the only "Thanks!" we get.
---
– SEE BELOW for MORE MMD TUTORIALS…
---
— — —
---
– _ — –
---